Suction cup dildos are dildos that have a suction cup base, enabling hands-free use. These dildos can be attached to any flat surface, such as a wall or the floor, providing you with full control over your pleasure.
Suction cup dildos come in various shapes and sizes, including realistic and non-phallic designs, as well as strap-on options. They can also be used in pairs, with two suction cup dildos connected to create a double-ended dildo. Double-ended dildos are particularly popular among lesbian couples, allowing both partners to experience simultaneous penetration.
Choosing the right suction cup dildo can be challenging due to the wide range of options available. Here are some of our highly recommended suction cup dildos that our customers adore!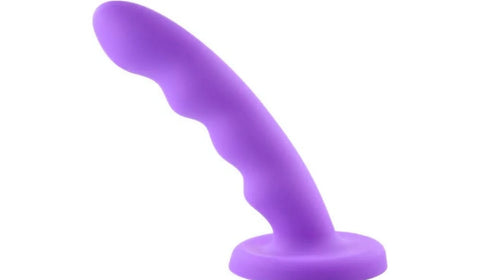 How to use
Using a suction cup dildo is similar to using any other penetrative sex toy and can be easily incorporated into your sexual routine. It's crucial to clean the dildo before and after each use to maintain hygiene. To enhance your experience, create a sensual atmosphere by dimming the lights and arousing yourself. Apply personal lubricant to both your erogenous zones and the dildo before slowly inserting it. Find a comfortable pace that suits you, gradually increasing speed if desired. If you experience any discomfort, stop using the dildo immediately.
The versatility of suction cup dildos allows for various positions. One popular position is doggy-style, where you can attach the dildo to a wall and position yourself accordingly. This grants you full control over the angle and height, ensuring a pleasurable experience.
Suction cup dildos offer the flexibility to attach them to various flat surfaces. Some popular locations where people use their suction cup dildos include:
Bathroom
Attaching the dildo to the side of the bathtub or beneath the shower can add an exciting element to your masturbation sessions.
Multipurpose furniture
Placing the dildo on a chair or other suitable furniture allows you to enjoy a thrilling ride.
Mirrors
Sticking the dildo to a mirror enables you to watch yourself as you engage with it, enhancing visual stimulation.
If you have any further inquiries about using a suction cup dildo, please don't hesitate to contact us. Our team of experts at Sex Toys will be more than happy to assist you.